Transfer all your wealth – including your business – to your next generation – estate tax free!

"Would you like to keep your wealth — every dollar of it — in the family, instead of losing it to the IRS?… Guaranteed!"
"And would you like to keep absolute control of ALL your wealth — including your business — for as long as you live?… Guaranteed!"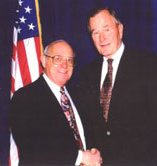 Irv shares the podium at a tax seminar with President Bush in Austin, Texas
January 21, 2012
CHICAGO-
Dear Friend and fellow taxpayer,
If you answered "Yes" to one or both of the above questions, you are about to be surprised. You may even be shocked. But in the end, I promise you will be pleasantly surprised.
There is a program — actually an innovative and Highly Organized System — that puts you in absolute control, not only of who will receive your wealth, but how much.
Let's start with the indisputable fact that there are only three ways to split your wealth – dead or alive:
1. Give it to your family (heirs)
2. Give it to charity
3.
What's the third one? Click here to find out…
Tax-Killing Results
Wealthy by Any Definition
On the Road to Wealth
Applying The System to the Mega-Wealthy
New Estate Tax Law
Confusion, Yet Opportunity
How to Plan Your Estate
Estate PlanningBusiness SuccessionWealth TransferAsset ProtectionLife InsuranceTax-Free Wealth Creation
Tax Planning Services Include:
You have worked hard your entire life to build up your wealth so that your children and grandchildren can be financially secure when you're gone, only to have much of it eaten up by taxes both during the course of your life and after you're gone.
Tax Secrets of the Wealthy can help you with all your wealth transfer, estate taxes and estate planning needs.
When you come to us, we will help you to transfer all your wealth, including your entire business if you have one, to your children and grandchildren, entirely free of estate taxes! We will also help you to keep total control of all your wealth for as long as you live! It sounds too good to be true – we know – but it is true!
Why not browse through our website, contact us and find out for yourself? We are dedicated to helping you to keep complete control of all your wealth. Where most people lose much of their wealth to the IRS, our clients don't lose any of it!
Estate Planning, which is ultimately Death Planning, is never an easy subject to speak about or even think about – but we make it easy by removing the gloom from the conversation and concentrating on lifetime planning along with wealth creation!
Wealth transfer
Estate Planning
Estate Taxes
Contact us for full details!
If you would like a small indication of our knowledge and what exactly it is that we are referring to, then take a look at the brief information below before surfing our website or contacting us.
Wealth transfer
To gain the benefit of a wealth transfer Plan, you must have one in place while you are still alive. A Wealth Transfer Plan is intended to go hand in hand with your Estate Plan – not to replace it. The Wealth Transfer Plan will ensure that every last dollar that belongs to you will be transferred to your family upon your death. A good wealth transfer Plan is flexible, so that if your circumstances change, then you can change the Plan easily without a fuss. It will also protect you from anyone who would like to take a cut, including creditors and ex-spouses.
Estate Planning
Estate Planning is in fact simply another name for "Death Planning" – with Tax Secrets of the Wealthy, we will explain how Estate Planning can fit together with a wealth transfer plan to avoid paying your wealth to the IRS when it should be going to your family!
Estate Taxes
Estate Taxes are the taxes imposed on the estate of a deceased person when the estate is transferred. In other words, the IRS taxes your right to transfer your property, and will take into account everything that you own and all investments that you have.
What is Tax Secrets of the Wealthy's main aim?
To ensure that you retain complete control of your wealth 100% of the time. Our years of experience in the industry will ensure that you achieve just this – we guarantee it!
Home Great Free Stuff Learn More Hire Irv Testimonials FAQs Privacy Policy Contact Us